Vollständig aktivierte Uchiha Sharingan Kontaktlinsen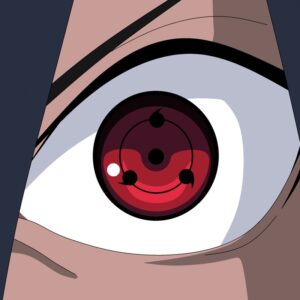 Hier sind unsere voll aktivierten Uchiha-Sharingan-Kontaktlinsen Diese Kontaktlinsen tragen das Symbol des Sharingan, dem Markenzeichen des Kekkai Genkai/der Technik des Uchiha-Clans. Seine eigentliche Übersetzung ist "dupliziertes Radauge", und es wird auch als eines der 3 fantastischen Doujutsu bezeichnet, neben dem Byakugan und Rinnegan.
Auch wenn nicht alle Uchiha ihr Sharingan aktivieren, so ist doch das Konzept, das sie dabei verfolgen, bei allen ähnlich. Starke emotionale Zusätze in Richtung eines geliebten Menschen oder engen Freundes, gepaart mit schwerwiegenden Umständen wie Verlustängsten, können die Aktivierung auslösen. An diesem Punkt aktivierte die extreme Emotion ein Chakra im Geist, das sich mit dem Sehnerv bewegt und auch ein Sharingan gebiert.
Die Sharingans-Fähigkeiten sind in zwei leistungsstarke Komponenten unterteilt. Die allererste ist die Fähigkeit, Chakra zu sehen, und zwar auch in Form von Schatten. Ebenso wie die Fähigkeit, Unstimmigkeiten in diesem Chakra zu entdecken, wenn es durch etwas wie Genjutsu zurückgehalten wurde.
Die nächste Kapazität ist eine wesentlich verbesserte Annahme. The wielder has the ability to examine every little thing far better. Points like reading lips, analyzing methods, body language, movements, as well as even boosted vision like translucenting thick haze is practical. As it develops and obtains more tomoe the user is able to take those capacities even additionally.
Zum Beispiel die Bewertung, Berechnung und Vorhersage von schnellen Aktivitäten oder Strategien von Gegnern. Das geht so weit, dass man in der Lage ist, eine ganze zukünftige Abfolge von Ereignissen allein durch das Niveau oder die Art der Zuckungen im Körper eines Gegners vor der Ausführung einer Aktivität oder Technik vorherzusagen. Eine weitere äußerst nützliche Belohnung, die man mit dem Sharingan ernten kann, ist die Fähigkeit, praktisch jede Art von Jutsu des Gegners zu duplizieren. Ob das nun Genjutsu, Taijutsu oder Ninjutsu ist, wie Kakashi berühmt gemacht hat und auch Sasuke mit seiner Taijutsu-Variante von Lees Aktion, die er die Löwen-Kombo nannte, gesehen hat. Letztlich ist die letzte der Sharingan viel mehr üblichen Fähigkeiten ist nur eine der Idee über die Verwendung eines leistungsstarken Hypnotherapie. Dabei kann der Zaubernde seinem Gegner im Voraus Bewegungen empfehlen, die den Anschein erwecken, als würde er die Zukunft vorhersagen. Für erfahrenere Kunden kann dies sogar noch weiter gehen, wie bei Madara und Obito, die mit den geschwänzten Bestien umgehen. Wenn du Interesse hast, ein Set dieser Kontaktlinsen zu kaufen, dann lege sie einfach in deinen Warenkorb und gehe zur Kasse. Alle unsere Kontaktlinsen werden pro Paar angeboten und sind weiche Linsen.